Choose The #1 Dumpster Rental Jeffersonville Ohio Company
Looking for a premier dumpster rental Jeffersonville Ohio company for your next project? Sparks Enterprises is the company for you! Sparks Enterprises is the best local dumpster rental in Jeffersonville choice for all Greene County residents and surrounding areas. Why do so many residents trust us with their roll off rental needs? The answer is simple – we are a business that cares! When you're shopping around and looking for companies, choose our team of professionals for the easiest rental process you will ever have!

When it comes to roll off rentals, the choice is clear - our team provides top quality customer service and has the largest, best selection of dumpster rental Jeffersonville Ohio that you can afford. We use industry-standard, durable equipment only because your safety is important to us. With years of experience, you can count on us to get the job done when it comes to your trash disposal needs. Roll off dumpster rental in Jeffersonville is our specialty, so we know and understand what needs to be done to make your this process easy and efficient. We're proud to service the Jeffersonville, Ohio, community with all dumpster rental near me Jeffersonville needs.

Time is valuable, and that is especially true when it comes time to remove junk and waste. We offer a variety of sizes to ensure your project can be handled. There is no need to grab a pickup truck and spend hours moving multiple loads of waste. With our dumpster rental Jeffersonville Ohio, you can be sure of the fact that we deliver your Jeffersonville dumpster on time when you need it most. Our easy online booking makes the rental process fast as well as our text for pick up option. Once you are done loading your trash, shoot us a quick text and we will take it from there. With our team of professionals, it really is that easy!

We Take Just About Everything
Some examples of the junk we haul away include
Refrigerator Disposal

Garbage Removal

Mattress Disposal

Foreclosure Clean Outs
Construction Waste Removal

Yard Waste Removal

Trash Removal

Appliance Removal
Television Disposal & Recycling

Furniture Removal

E-Waste Disposal

Hot Tub Disposal
Various Uses for Dumpster Rental Jeffersonville OH

There are countless reasons to invest in a dumpster rental Jeffersonville OH for your residential, commercial, or construction needs. Whether you're preparing for an estate sale, managing an apartment complex, or leading a team on a construction project, our experience, price points, and selections of Jeffersonville Ohio dumpster rental options will make your life and job easier.

We regularly partner with Xenia Demolition Landfill to ensure your waste is disposed of properly abiding by all city, county, and state regulations. When you book a dumpster rental Jeffersonville OH with our team of experts, you're also booking helpful customer service, competitive pricing, and durable containers.

Rent a roll off dumpster Jeffersonville for all of your upcoming projects, including de-cluttering the garage, renovating your guest bathroom, cleaning up after a foreclosure, caring for retirement facilities, and so much more. The options are limitless with our dumpster service Jeffersonville Ohio. Book online today using our convenient online scheduling tool or give us a call at (937) 510-3973!

Residential Dumpster Rentals Jeffersonville Ohio

Whether you're gearing up for a garage sale or are getting started on an exciting renovation project, our dumpster rentals Jeffersonville Ohio are a great tool for your upcoming residential needs. Instead of filling up your personal bins and not being confident that your regular garbage disposal service will collect all of that waste, book with our team of Jeffersonville residential dumpster rental professionals!

When you're ready to rent a dumpster Jeffersonville for your home cleanup, renovation, or repair project, book with our team of friendly, helpful roll off experts. Whatever your goals are, we've helped with them all. From small roofing repairs to full-scale hoarding cleanouts, our dumpsters are equipped to handle whatever you fill them with. Use our convenient online scheduling system to reserve your dumpster rentals Jeffersonville Ohio from the comfort of your home today!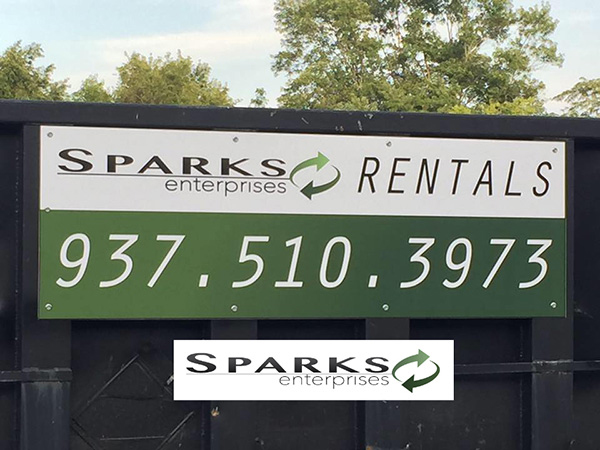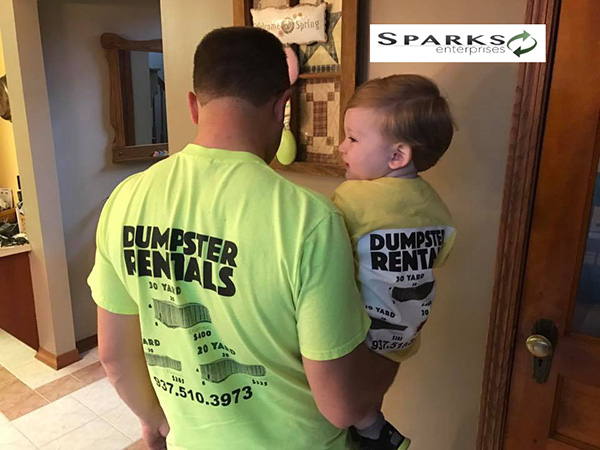 Yard Waste Dumpster Rental in Jeffersonville OH

Yard waste has a tendency to pile up on us and, before we know it, our lawns are nowhere to be found, which is where our dumpster rental in Jeffersonville OH options come into play to save the day! No matter what your yard waste disposal needs are, we're here to help.

From removing brush and debris to patio renovations to landscape design, our dumpster rentals in Jeffersonville are a great way to conveniently work on your yard at your own pace. It's difficult to know if traditional waste management services will accept large amounts of yard debris, but with our dumpster rental in Jeffersonville OH, you can be confident that the mess will disappear in one fell swoop!

Start that gorgeous flower bed project, till your garden, or clean up after a storm with the ease and convenience of a dumpster rental in Jeffersonville. Give us a call at (937) 510-3973 or use our online booking tool to reserve your roll off today!

Construction Roll Off Dumpster Rental Jeffersonville Ohio

As a contractor or project lead, you understand the importance of a reliable, durable roll off dumpster rental Jeffersonville Ohio to keep your job site on track and safe. Our versatile range of roll off options are the perfect asset for your site. With 10-40 yard construction dumpster rental Jeffersonville OH options, we're confident we carry the perfect container to keep your project moving forward.

Our variety of Jeffersonville construction dumpster options is built to carry a wide range of waste and materials, including drywall, wood, asphalt, brick, tile, and other heavy debris. If you have any questions or concerns about what materials can be hauled away in our roll off dumpster rental Jeffersonville options, give us a call at (937) 510-3973 or browse our website for more information.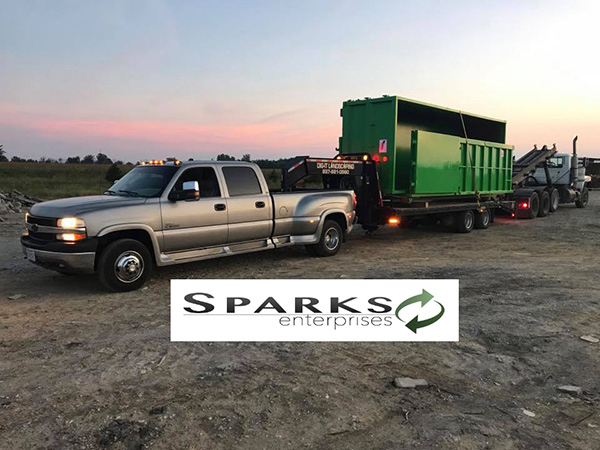 Roofing Roll Off Dumpster Jeffersonville Ohio

There's no better choice for a roofing roll off dumpster Jeffersonville Ohio option than our wide selection of durable, industry-standard containers. Whether you're repairing your own roof or preparing for a commercial roofing replacement, we're here to help by offering a wide selection of dumpster Jeffersonville Ohio selections.

Our top-quality containers are capable of hauling a range of waste and materials, including shingles, wood, tile, and more. If you're not sure which size roll off dumpster Jeffersonville Ohio is the best choice for your specific project, give us a call. We're confident we have the perfect roll off dumpster rental Jeffersonville that will support your roofing needs in a cost-effective and convenient way.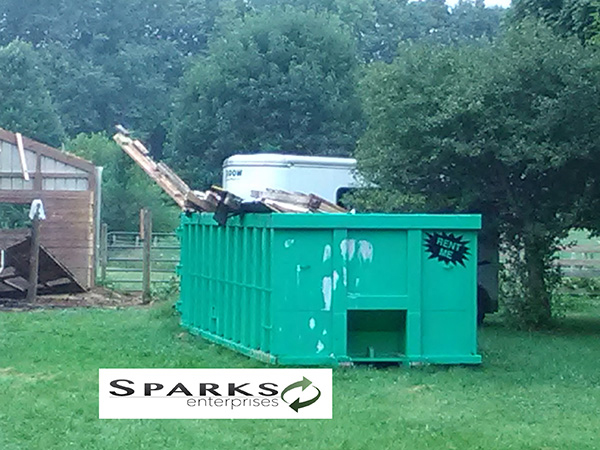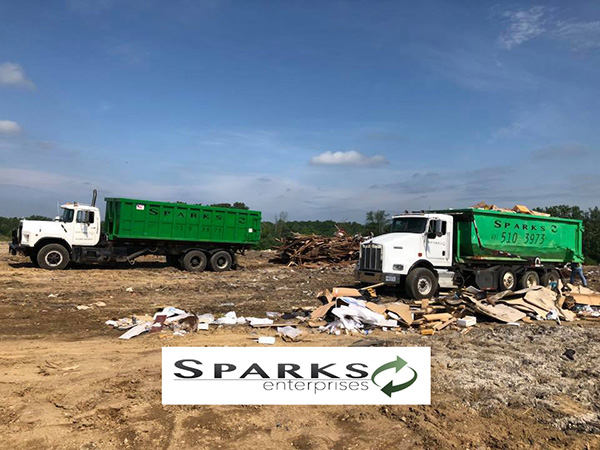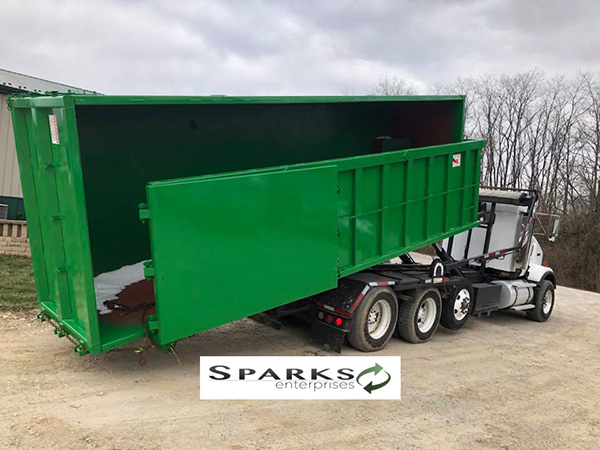 Commercial Trash Dumpster Rental in Jeffersonville

For all of your commercial waste management needs, book our trash dumpster rental in Jeffersonville to rest assured your waste will be hauled off in a timely, affordable, convenient manner. Whether you manage an apartment complex or need ongoing waste management services for your small business, our team of experienced Jeffersonville commercial dumpster rental pros is here to help.

We want to make sure your guests, customers, or employees enjoy their experience with your business or space, which is why we offer affordable trash dumpster rental in Jeffersonville on a flexible basis. Whether you need to rent a dumpster in Jeffersonville Ohio one time or need ongoing maintenance support, we have sizes and service options to best fit your commercial needs. Get in touch with us to learn more about our commercial dumpster service Jeffersonville Ohio or book online today!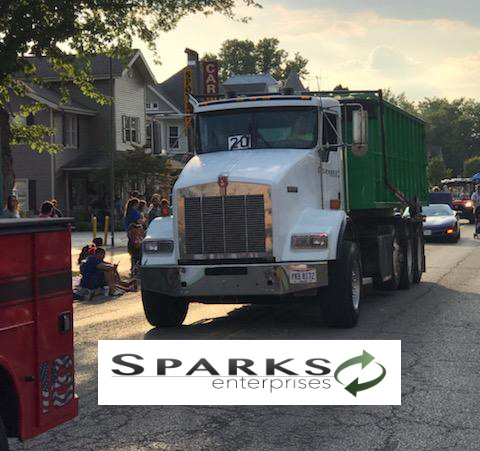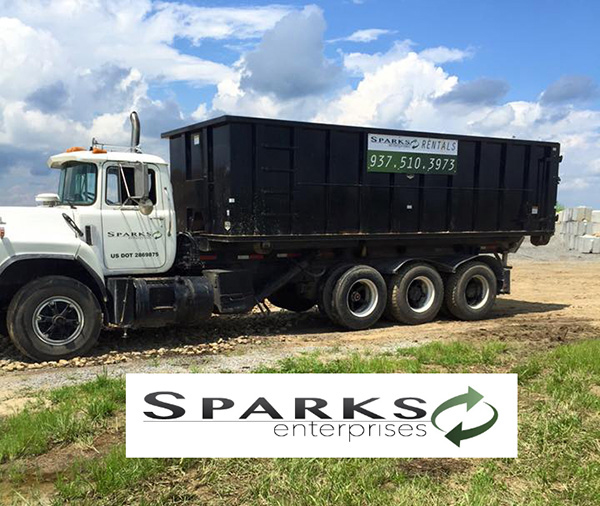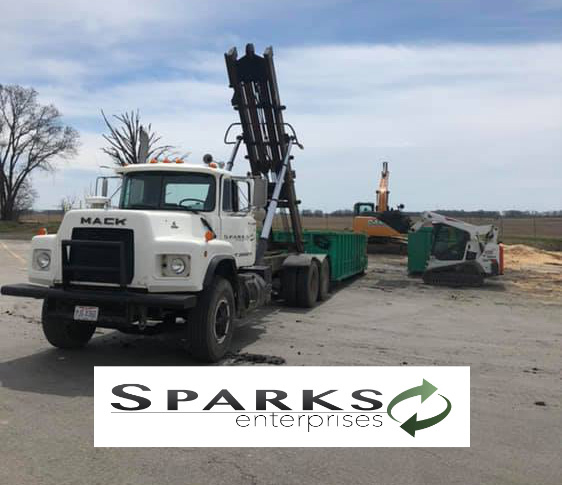 How to Book the Best Dumpster Rental Jeffersonville

Ready to get your dumpster rental Jeffersonville booked today? Booking roll off dumpsters Jeffersonville has never been easier than with Sparks Enterprises! We're committed to our customers and are dedicated to making sure their dumpster Jeffersonville process is easy as pie. Our user-friendly online booking system is made so that anyone can handle booking a budget dumpster Jeffersonville Ohio!

The steps to booking a dumpster rental Jeffersonville are easy: First head to our website and find a list of our dumpsters on the home page. Next, choose the right size dumpster that is right for your project. If you aren't sure which dumpster Jeffersonville, OH is right for you, don't worry! Our website has a dumpster sizing guide that goes into detail about each one of our premium containers. If you are still confused after that, give our customer service a call. They are happy to help you through your options to rent dumpster Jeffersonville Ohio.

Once you have decided on the dumpster size, click "Book Online" and add it to your cart. Next, you will choose your rental dates, provide contact details, and fill out your billing information. Once the process is completed, the dumpster is yours! You should receive a confirmation email from us with all of the information you provided. We will bring your dumpster delivered to you on time and ready to go. When you're finished, shoot us a text and we will come to pick it up and take care of the rest. It's that easy! If you have any questions about our dumpster rental Jeffersonville Ohio cost or process, text or call us at (937) 510-3973!


Sizes & Prices Dumpster Rental Jeffersonville Ohio
At Sparks Enterprises, we have the sizes and prices dumpster rental Jeffersonville Ohio for every kind of job, no matter how big or how small. We have a full selection of dumpster sizes to choose from, ensuring you get the right fit for your project. We're here to make waste management simple and easy between our convenient online ordering system and our dedication to superior dumpster rental in Jeffersonville, OH selections. The next time you need a roll off rental, you can count on us to deliver the premium dumpster Jeffersonville OH you need to complete your project with ease.

The smallest dumpster we have to offer is a small, but mighty 10 yard dumpster. This dumpster rental Jeffersonville OH has a capacity equivalent to 4 pick-up truck loads. At just two feet tall, this dumpster is easy to load and convenient for waste disposal. This dumpster starts at a low price of $295 with up to 7 days of rental time. This size is ideal for household cleanup, removing smaller appliances, and a small renovation project.

If you need a little more waste space for your project cleanup, the 20 yard dumpster may be the perfect fit. This dumpster is great for yard cleanup, house cleanup and small remodeling projects. With a capacity equivalent to six pick-up truckloads, you can't go wrong with this amazing dumpster starting at only $355 for a 7-day rental. Standing only four feet tall, these dumpsters in Jeffersonville Ohio have a lot of room for easy access.

When you are starting to get into larger projects, you need a big sturdy dumpster to get the job done. That is where our 30 yard dumpster comes in handy. This 6-foot-tall dumpster has a capacity equivalent to eight pick-up truck loads! This dumpster is large enough to handle bigger remodeling projects such as bathroom renovations or full attic and garage cleanouts. Bulky, heavy, and large materials are great to throw in this dumpster. Our 30 yard dumpster has a 1-7 rental day frame and starts at only $430. These are some of the most affordable dumpster rental prices Jeffersonville Ohio has to offer.

Finally, our largest dumpster that can handle ANY project you throw at it, is our heavy-duty 40yard dumpster Jeffersonville Ohio. This is our go-to roll off for demolition, commercial, and construction projects. This premium 40yard dumpster Jeffersonville can handle up to 10 pick-up truck loads and is equipped to handle those heavy and bulky materials. This dumpster stands at eight feet tall, making it efficient to handle loads and loads of waste. For only $530, this dumpster can be rented for up to seven days to get your project finished! No matter the project, we can handle it. Choose Sparks Enterprises for the best service and prices dumpster rental Jeffersonville Ohio.
Jeffersonville Dumpster Rental FAQs
We understand you might need additional information before booking your Jeffersonville dumpster rental, which is why we've created a convenient list of frequently asked questions to provide answers! If you need more information about our dumpster can rental Jeffersonville Ohio options, give us a call at (937) 510-3973!

1. How much does it cost to rent a roll off?
Our dumpster rental costs Jeffersonville Ohio vary based on the size of the container, duration of the rental, and how much weight is being hauled away. We understand you're probably searching for cheap dumpster rental Jeffersonville Ohio, but not only do we provide cost-effective, affordable options, but we also guarantee helpful service, on-time delivery, and durable options for all projects.

If you're searching for the best budget dumpster rental Jeffersonville, look no further than our premium selections. Our containers begin at $295 for our 10 yard dumpster, which includes a 7-day rental and up to 1 ton of materials. We're flexible with scheduling and adding more weight to your rental if need be. Just get in touch with our experts about roll off dumpster prices in Jeffersonville Ohio, or book online today!

2. Will the dumpster leave a mark on my driveway or street?
Our team of professionals are mindful and careful when delivering and picking up the Jeffersonville Ohio house dumpsters to make sure we leave your driveway just as clean as it was when we arrived. We take extra precautions to ensure we're picking up and hauling away in a safe manner, so we don't accept bins that have waste toppling over the sides or growing mounds above the walls of the container.

3. What can go into the dumpster?
A shorter list is what can't be hauled away in our Jeffersonville dumpster rental Jeffersonville, OH containers. We cannot accept hazardous or flammable materials, including liquid-based items like paints, gasoline, pesticides, and other liquids, tires, or batteries. We accept furniture, appliances, construction materials, yard debris, office furniture and equipment, tools, and so much more.

If you need additional information about our Jeffersonville dumpster rental process, give us a call or browse our website!
Rent a Dumpster Jeffersonville Ohio & Surrounding Areas
When you're ready to get to work on your next project, make sure to rent a dumpster Jeffersonville Ohio from Sparks Enterprises first. We make the process simple so that you can focus on getting the job done right. In Fayette, Montgomery, Greene, and Darke counties, we proudly service the following zip codes with our premium dumpster bins: 43128.

We want to make sure our communities stay clean and waste-free. No one wants to go to The Village of Jeffersonville Park and see trash overflowing! If you're wondering where to rent dumpster in Jeffersonville Ohio, our services extend to the following surrounding areas: Centerville, Beavercreek, Bellbrook, Dayton, Jamestown, Washington Court House, and Xenia. If you don't see your zip code or city listed, don't give up just yet. Give us a call and let us know because we frequently deliver to areas even farther out and special accommodations can sometimes be made to help you rent a dumpster Jeffersonville Ohio.
Glowing Reviews for our Dumpsters Jeffersonville Ohio
We're here to make waste management simple and easy with our dumpsters Jeffersonville Ohio between our convenient online ordering system and our dedication to superior customer service. We love creating a positive and easy dumpster service Jeffersonville OH process for our clients.

If you've been holding off on projects because you don't want to deal with the hassle of where to put all the waste and debris - that excuse ends here because we make tossing your junk and waste a breeze with our environmental waste dumpster Jeffersonville area.The next time you need a roll off rental, you can count on us to deliver the premium container you need to complete your project with ease.

We also love to hear about those positive experiences with Sparks Enterprises. We care about our customers and what they have to say about our dumpsters Jeffersonville Ohio which is why we want to share with you some of our favorite quotes from happy customers:

"Sparks Enterprises is always able to work with our schedule to get jobs complete when we need them done. The owner and employees are knowledgeable and great to work with." - C. Spires

"We used these guys to do a full home clean out. We have used other companies in the past, but this one is unmatched!" – D. Mark

"Sparks Enterprises offers great customer service and had just the right dumpster to help with my clean up!" – S. Jones
What to See and Do in Jeffersonville, OH
In Jeffersonville, there's plenty to keep you busy. Whether it's shopping at the Tanger Outlets or enjoying local events like the annual village fair, Jeffersonville is full of surprises and excitement for folks of all ages. If it's open spaces and fresh air you're after, Jeffersonville won't disappoint. The Jeffersonville Small Area Park is a local favorite, ideal for picnics and letting the kids burn off some energy. Perfect for when you've finally cleared that backyard mess—courtesy of your pals at Sparks Enterprises, of course!
The Local History and Landmarks of Jeffersonville
Jeffersonville is more than just a dot on the map; it's got history to boot. With roots stretching back to the early 19th century, our village is rich in heritage. You can learn about the early settlers and their way of life by visiting some of our preserved historical sites. It's a fascinating step back in time that shouldn't be missed.

Landmarks add flavor to any place, and Jeffersonville has its own iconic spots. The Fayette County Airport, although small, connects us to the wider world and adds a modern touch to our quaint community. And let's not forget the charming historic buildings that line our main streets. They're like visual bookmarks that remind us of the town's vibrant history.
The Schools, Churches, and Top Restaurants of Jeffersonville, Ohio
Got an appetite? Jeffersonville offers culinary delights that cater to all tastes. Stop by Werner's Smokehouse for some of the best BBQ in the area, or if you're craving something sweet, Cindy's Dari Delite is a must-visit. Their ice cream cones are the talk of the town!

Education and spirituality serve as pillars of the Jeffersonville community. Schools like Miami Trace High School offer top-notch education and extra-curricular activities for our young people. As for spiritual nourishment, churches like the First Baptist Church of Jeffersonville welcome all with open arms. Community matters here, and we're proud to be a part of it at Sparks Enterprises.